Custom Sewn Web Straps
SeamCraft has manufactured countless web strap products in our Chicago facility. These products ranged in size from restraints for small animals, to waist belts that accommodate wearable pouches, shoulder straps that help to carry bulky items, to 15 foot long safety tethers.
Custom sewn web straps were generally produced using polypropylene or nylon webbing from 3/4 inches to 2.0 inches wide of various colors, but mostly black for cost and availability reasons. Component hardware usually consisted of plastic or metal snap hooks, lock buckles, slides, rings, loops and release buckets. Further customization was achieved by adding shoulder pads, labels, tapes, grommets and special attachment holes.
---
Custom Web Strap Applications:
Blood Pressure Recorders

Hospital Mattress Retainers

Construction Equipment

Body Motion Analyzers

Pet Surgical Restraints

One Handed Tourniquets

Photography Accessories

Boat Mooring Harnesses
Orthopedic Braces

Nutrient Infusers

Bike Safety Devices

Canoe Cargo Storage

Tree Stand Perches

Med. Waste Disposal

Battery Harnesses

Soil Penetrometers
Fire Fighting Gear

Sport Skill Builders

Harmonic Therapy

Medicine Infusers

Tree Wraps

Pet Diapers

Book Carriers

TV Cable Carts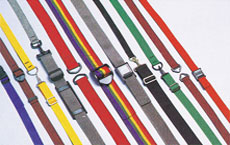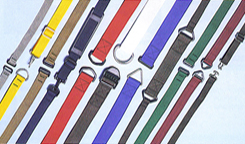 (Click on images to enlarge)
To find out what we can do for you, contact us.