Custom Sewn Protective Covers
SeamCraft has produced numerous custom protective covers from our Chicago plant. For indoor applications they ranged from calculator size units for food scales, to keyboards, computers as well as hospital mattresses. Outdoor covers ranged from coffee can size winch covers, to sofa sized BBQ's as well as door height speaker systems.
They generally were produced using frosty or opaque vinyl film, supported vinyl, 3 ply laminates and medium weight nylons. Vinyl and nylon bindings were used for trim. Often screen printed logos and poly bag packaging were also included.
Our site lists over 30 different materials that we sew and the many components that we use.
Custom Protective Cover Applications:
Air Conditioners

Tool Boxes

Exercise Machines

Computers

Water Analyzers

Keyboards

Vision Testers

Microscopes
Dialysis Machines

Speakers

Robotic Devices

Lasers

Jet Engine Tools

Towbars

Deluxe Barbecues

Printers
Pipe Bending Eqt.

Food Scales

Runway Lights

Shredders

Voting Machines

Winches

Postal Scales

Compasses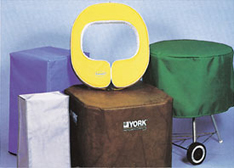 (Click on images to enlarge)
Contact us to find out what we can do for you.