Custom Industrial Sewn Components
SeamCraft custom industrial sewn components has successfully designed and provided countless unique custom sewn components. The items were actually integrated into customer products, which made them operational.
Our custom sewing has included palm size inserts for sausage making devices, letter size sleeves for concrete testing, and pads for various orthopedic braces. Cuffs for blood pressure testing machines, vests for body motion analyzers and seven foot stretchers for hospital bed scales were also produced. They have also included a variety of web straps to help carry bulky items and carry 15 foot long safety tethers.
Fabrics used generally included a wide range of nylons, 3 ply laminations, and canvas. Closures and components also varied substantially. However, our site lists over 30 different materials that we sew and the many components that we use.
---
Industrial Sewing Applications:
Body Motion Analyzers

Blood Pressure Machines

Orthopedic Braces

Ergonomic Aids

Automatic Pepper Mills

Hospital Carts

Concrete Casting Devices

Voting Booths
Photography Dryers

Hospital Bed Scales

Grain Harvesters

Cycle Stereos

Pet Surgical Restraints

Seed Germinators

Fibre Optics Installers

Airplane Oxygen Systems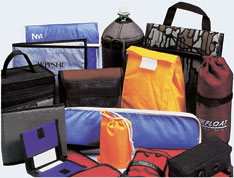 (Click on images to enlarge)
To find out what we can do for you, contact us or request a quote.