Custom Sewn Bags & Soft Cases
SeamCraft has manufactured countless custom sewn bags and soft cases from our productive Chicago factory. The items range in size from small pocket sized units for medical monitoring devices, to luggage size soft cases for electronic equipment, as well as ten foot long bags to hold rolled up trade show carpets. Some are even designed to hold over 40 pound loads.
Our custom manufactured custom bags are generally fabricated using a heavy duty nylon fabric, nylon zippers, web handles, and web shoulder straps. Often foam cushioning, inside linings, pockets, bottom protection. Customer's logos are often included, as well.
Our site lists over 30 different materials that we sew and the many components that we use.
---
Custom Sewn Soft Case Applications:
Oximeters

X-Ray Equipment

Therapeutic Oxygen Bottles

Trade Show Exhibits

Tripods

Auto Jacks
Dog Show Obstacles

Sample Lighting Fixtures

Surveying Instruments

Mini Mattresses

Masonry Testers

Railway Communitcations
Home Security Simulators

Aikido Weapons

Radar Guns

Mobile Military Weapons

Poster Printers

Truck Monitors

And others...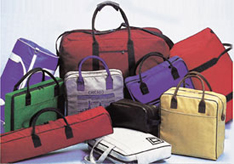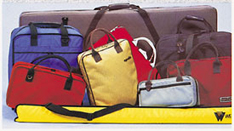 (Click on images to enlarge)
Contact us to find out what we can do for you.